This post may contain affiliate links. Please read my disclosure policy
Hello, and welcome to girl carnivore, my little neck of the interwebs dedicated to all things meat. And for the record, no not that kind of meat. I'm talking the barely seared, still mooing, freshly ground kind of treasures that make omnivores everywhere salivate in anticipation.
Why Girl Carnivore? Because that's what this is; One girls dream of butchering, stuffing, and grinding her own hard earned bounty. Once upon a time, the open flame and wood smoker were deemed man's territory, but I'm here to prove that a thing of the past. To show women how to roll up their sleeves and get a little grease under those fingernails. And most of all, that like anything, playing with your meat is only complicated until you get the stones to whip it out.
We will be mastering the grill, proving that smoking isn't just for the professionals, grinding and stuffing meats ans sausages, curing, butchering, and doing a whole lot of learning along the way. Sometimes it's just going to be hearty meals and other times it's going to be journeys into a land a little less comfortable for the faint of heart. I can warn you now, if you want cupcakes, you're in the wrong place. This is a house of savory.
So welcome to girl carnivore. I hope you brought your appetite.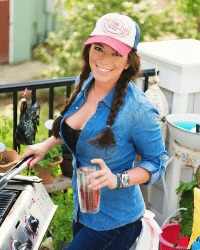 Hey, I'm Kita, the Meat Maven, outdoor junkie, campfire connoisseur, adventure-seeking and world traveled recipe developer and photographer behind GirlCarnivore.com. My mission is to break down savory eats and inspire you to get a little grit under your nails while having fun with your food. READ MORE