This Slow Cooker Shredded Barbecue Brisket is the perfect go-to meal for when you need to bring that signature BBQ flavors indoors.
Savor it in a soft roll. Or, try it on nachos, baked potatoes, or grilled dogs!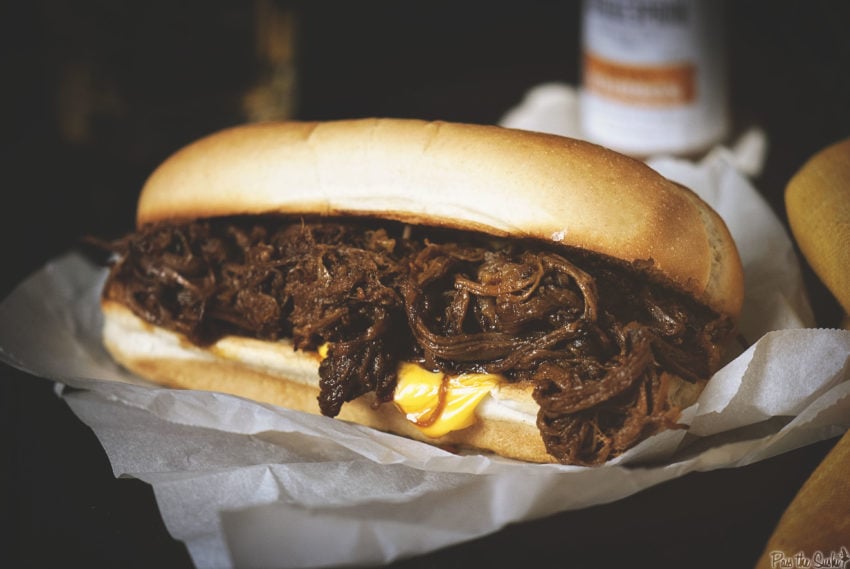 This site is all about elevating your inner meat connoisseur. Taking your grill game to the next level. Learning how to tell when beef is just right. Brining, smoking, and stuffing. And I plan to introduce you to recipes featuring a variety of techniques and tips.
But sometimes, you are stuck in jury duty for a week, it is stupid cold, and all you want to do is come home and sit on your butt. And you can't even do that because there are the normal things to be done, and the last thing you want to do is play check the chicken in sleet because you have yet to break down and bust out the winter coat. So, in comes the slow cooker.
Yup. It's been that kind of week.
You Deserve BBQ Brisket
Bbq brisket is the sort of thing to treat yourself to when you demand beef in all its glory. Rich, hearty, big, and beefy BEEF. Brisket pound for pound has more flavor than anything else.
Yes, I am talking ribeyes, and tenderloins, ribs, and everything else. When it comes to flavor, Brisket is the basket, the cradle, the source of everything that makes beef delicious.
And one of the reasons for this also has to do with cooking it low and slow. You are distilling the essence of beef flavor into every bite. If you went any further you would be within sight of becoming beef bouillon.
What Is Beef Brisket Exactly?
The brisket cut comes from the lower neck or upper chest of the cow. It is a big dense and fibrous muscle so slow cooking it is best for tenderizing it… So critical for the shredding!
Why Is A Slow Cooker Best For Beef Brisket?
Slow cookers filled with a bit of braising liquid work best for beef brisket for a few reasons.
The braising liquid helps break down the tough collagens in the meat, this in turn provides the meat with a velvety texture.
Slow cooking allows the flavors to meld like Spock and Kurt in perfect Vulcan mind meld harmony. Where the essence of all flavors becomes one with the universe, finding true balance in each other's attributes.
You keep the meat moist, warm, and can conveniently serve it from the slow cooker, or set it out for guests to serve themselves.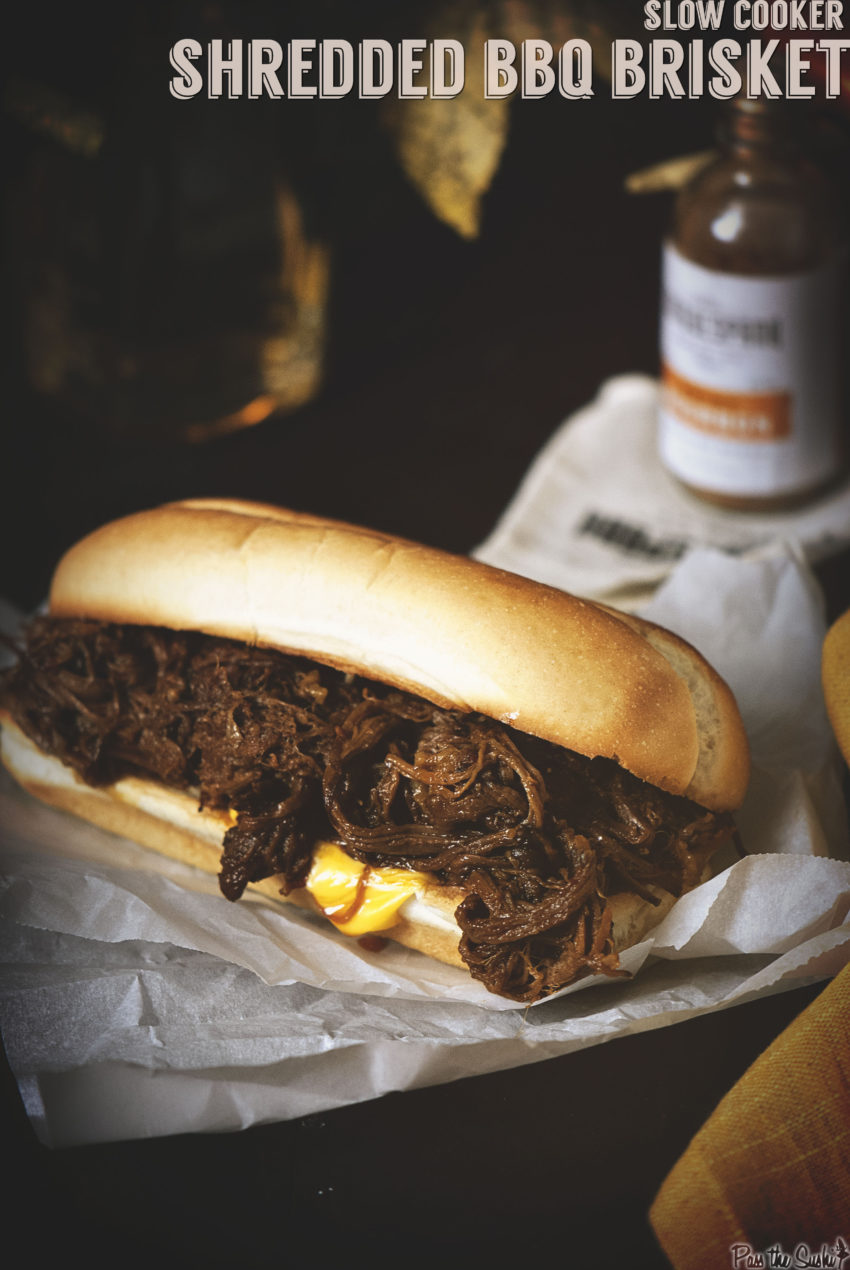 More Recipe Ideas
If you've tried my Slow Cooker Shredded Barbecue Brisket recipe, or any other recipe on GirlCarnivore.com please don't forget to rate the recipe and let me know where you found it in the comments below. I get inspired by your feedback and comments! You can also FOLLOW ME on Instagram @girlcarnivore as well as on Twitter and Facebook.
Slow Cooker Shredded Barbecue Brisket
Check out the sweet heat
brought to the table. Alternatively you could find a bourbon dry rub in most grocery spice aisles.
Ingredients
3

lbs

beef brisket

flat cut

4

tablespoon

Smokey Bourbon Seasoning*

½

onion

minced

1

cup

barbecue sauce

1

tablespoon

brown sugar

12

Toasted rolls

cheese, red onions for serving
Instructions
Coat the brisket generously with the seasoning mix. Wrap in plastic wrap and store in the fridge over night.

When ready to cook, place all ingredients (brisket fat side up) in the slow cooker.

Cook on low for 9 to 10 hours, until brisket shreds easily with a fork.

Carefully remove the fat from the top of the brisket, discard, and shred the meat.

Return to slow cooker and toss, adding more barbecue sauce as needed to coat.

Serve as messy sandwiches on toasted rolls with melted cheese and red onions.
Notes
When you can pull it apart easily with just a fork you are good to go. 
Leftovers can be frozen easily for up to two months.
Nutrition
Nutrition Facts
Slow Cooker Shredded Barbecue Brisket
Amount Per Serving
Calories 222
Calories from Fat 72
% Daily Value*
Fat 8g12%
Cholesterol 70mg23%
Sodium 334mg15%
Potassium 436mg12%
Carbohydrates 11g4%
Protein 23g46%
Vitamin A 55IU1%
Vitamin C 0.5mg1%
Calcium 15mg2%
Iron 2.3mg13%
* Percent Daily Values are based on a 2000 calorie diet. Nutrition information provided is an estimate. For specific health concerns, please put the recipe into your Dr recommended nutrition calculator.