These Slow Cooker Pork for Cuban Sliders have it all! 2 kinds of pork, sharp swiss cheese, zesty mustard-mayo mix, and not to be forgotten – the pickle on top – all between two tiny buns. Turn on the slow cooker and let it do the work. By kick off you can grab a few and let's call it a game day menu!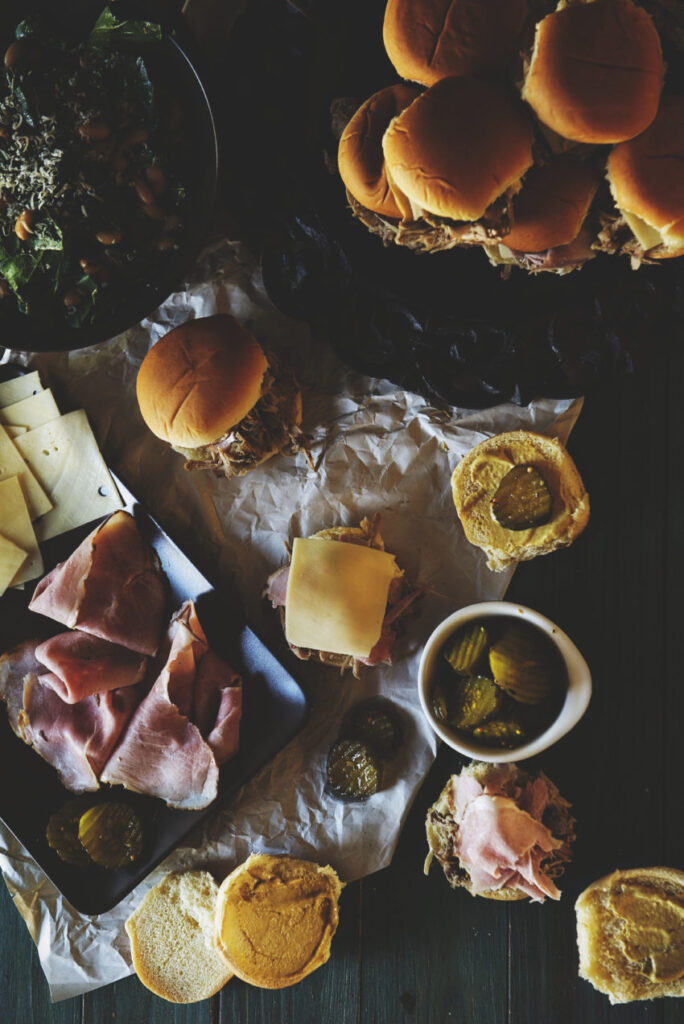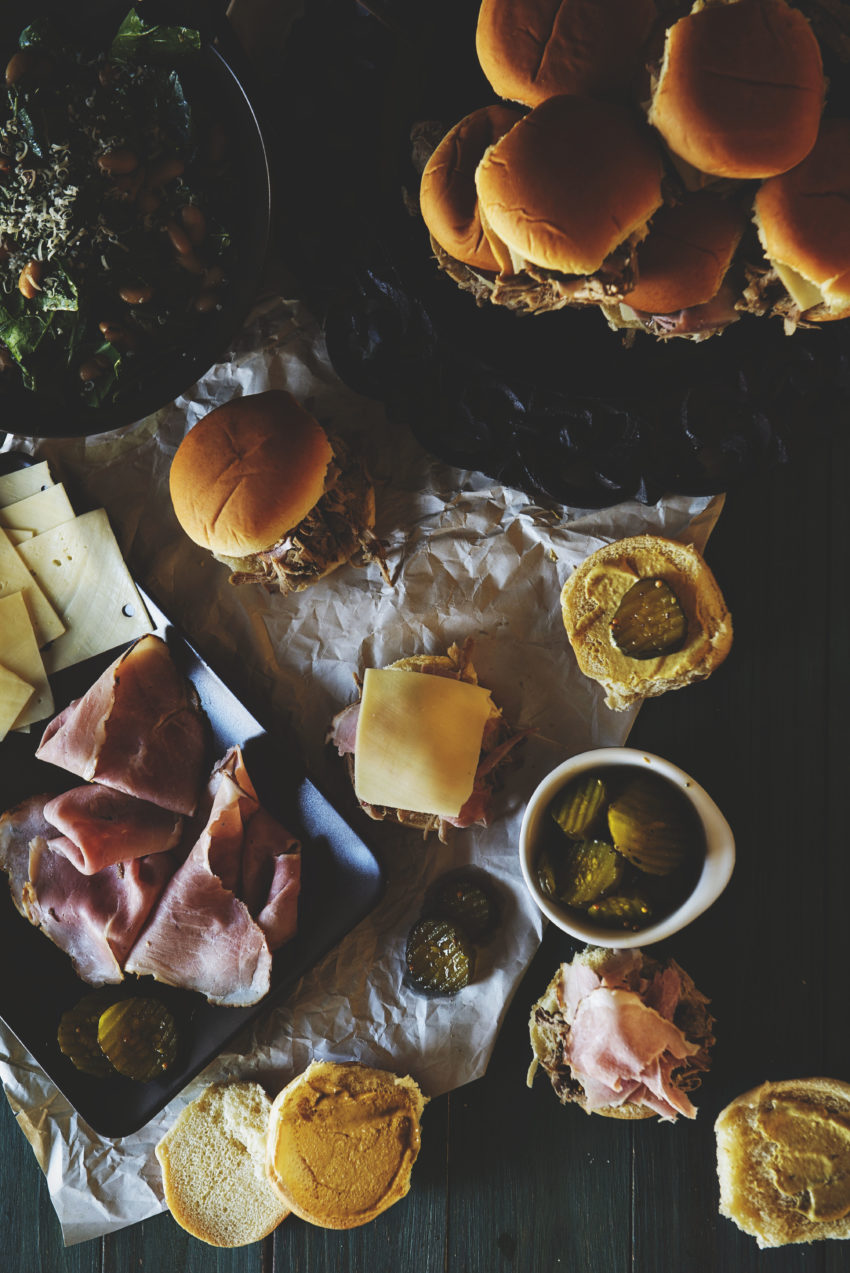 Give me a pork loin and the options are endless. Tell me I have to feed 20 hungry guests involved in watching a high-stakes long winded commercial break fueled food ball game and I may narrow down my choices real quick. 
I love busting out the grill and working for an enticing meal as much as any charcoal loving carnivore, but sometimes, you don't have a pork butt on hand and it's not worth the effort if you know the crowd just wants to grab and go between first downs.
Sometime's it's best to know when to pick your battles. That's when I break out the slow cooker and let it work its magic on that delicious lean loin while I prepare the cooler for entertaining.
For these Cuban Sliders, I wanted to keep the flavor of the slow cooked pork simple but prominent, and let some key spices add their flair with minimal prep and clean-up. I wanted juicy pork in every bite and a kick from lime juice and a hint of heat from the red pepper flakes. I wanted the Dijon to mellow with the mayo and the pickle to add just the right amount of vinegar to the whole experience. I was hoping it would be the closest unauthentic Cuban on the block for the day and still pass muster with any well-traveled palates.
Mainly, I wanted to guarantee there wouldn't be leftovers.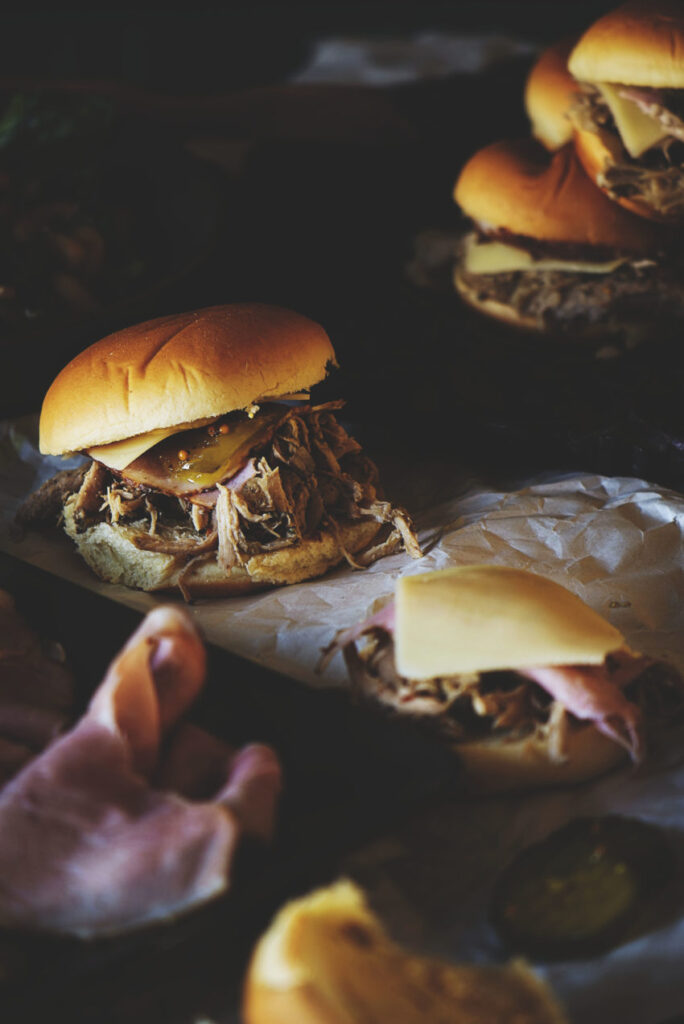 Check out more recipe inspiration!
Bring on the Cuban Sliders Recipe!
Slow Cooker Pork for Cuban Sliders
Ingredients
1

onion

sliced

2

garlic cloves

minced

1 ¼

teas cumin

1 ¼

teas salt

1 ¼

teas freshly ground black pepper

1 ¼

teas oregano

1

teas red pepper flakes

2

lbs

pork loin

1 ½

cup

chicken broth

½

cup

lime juice

1

tbs

Dijon mustard

1

tbs

mayo

slider rolls

1

lbs

deli ham

sliced thin

½

lbs

Swiss cheese sliced thin

bread and butter pickles
Instructions
Place onion in the slow cooker. Add the garlic. Whisk the cumin, salt, pepper, oregano, and red pepper flakes. Rub liberally all over pork. Nestle the pork into the slow cooker.

Whisk the chicken broth and lime juice together and add to the slow cooker. Cover and cook on low for 8 to 9 hours until the pork shreds easily with a fork.

Remove the pork from the slow cooker and place in a bowl. Shred with two forks. Put pork back in the slow cooker and stir to mix in the juices.

Meanwhile, preheat broiler. Combine the mayo and mustard in a small bowl. Spread evenly over the tops of the slider buns arranging the bottoms on a baking sheet as you work. Spoon heaping portions of the pork into the buns and top with ham and Swiss cheese. Broil for a minute or two, just to melt the cheese.

Top with a pickle and the mayo-mustard coated bun tops. Serve.
Notes
BHG Creative Slow Cooker Recipes 2011