Nothing screams lazy quite like the slow cooker. And boy, am I lazy. Sure, if this were serious lazy slow cooking, it would involve chicken and a jar of canned bbq sauce. Alright, so I'm classing things up a bit. Adding my own kick and putting a summer time classic on the table all year long. But really,when push comes to shove, their isn't anything wrong with a jar of barbecue sauce. If you have the prep time, this version goes a long way.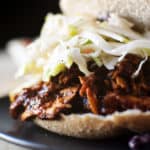 Slow Cooker Barbecue Pulled Chicken
Ingredients
1

lbs

bone in spit chicken breasts

1

lbs

boneless skinless chicken thighs

salt and pepper

1

medium onion

diced

1/2

cup

tomato paste

2

tbs

vegetable oil

5

tbs

chili powder

3

garlic cloves

minced

1/4

teas cayenne pepper

1

cup

ketchup

1/3

cup

molasses

2

tbs

brown mustard

4

teas cider vinegar

4

teas hot sauce

3/4

teas liquid smoke

Soft sandwich rolls
Instructions
Combine the onion, tomato paste, oil, chili powder, garlic, and cayenne in a microwave safe bowl. Microwave about 3 minutes, until onion is softened, stirring occasionally.

Transfer to slow cooker and whisk in the ketchup, molasses, mustard, and vinegar. Season chicken with salt and pepper, arrange chicken in the slow cooker, and spoon sauce over top. Cover and cook on low for 5 hours, until easily pulled with a fork.

Transfer to a cutting board and cover with aluminum foil. Let rest for 15 minutes.

Whisk hot sauce and liquid smoke into the remaining sauce, cover and keep warm.

Discard skin and bones from chicken. Shred the chicken and return to slow cooker. Toss with sauce.
Recipe Notes
Cooks Country April/May 2013
I served this with sweet apple slaw. A quick adapted version of this recipe.