In under 30 minutes, I can have a filling, healthy meal on the table filled with fresh healthy ingredients. It's the perfect mix of weeknight convenience and restaurant-quality flavor that is sure to please.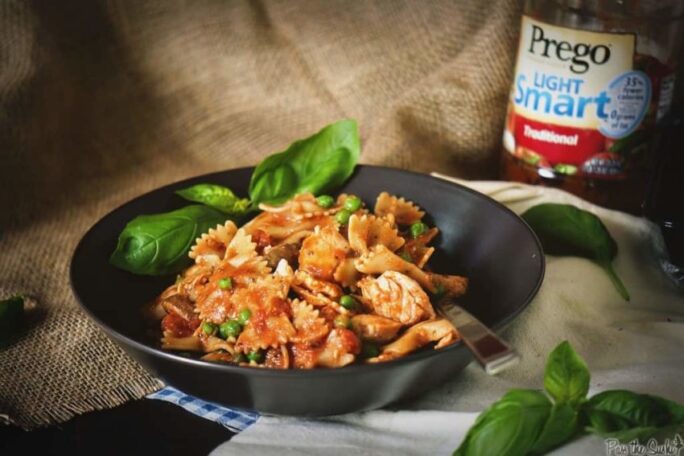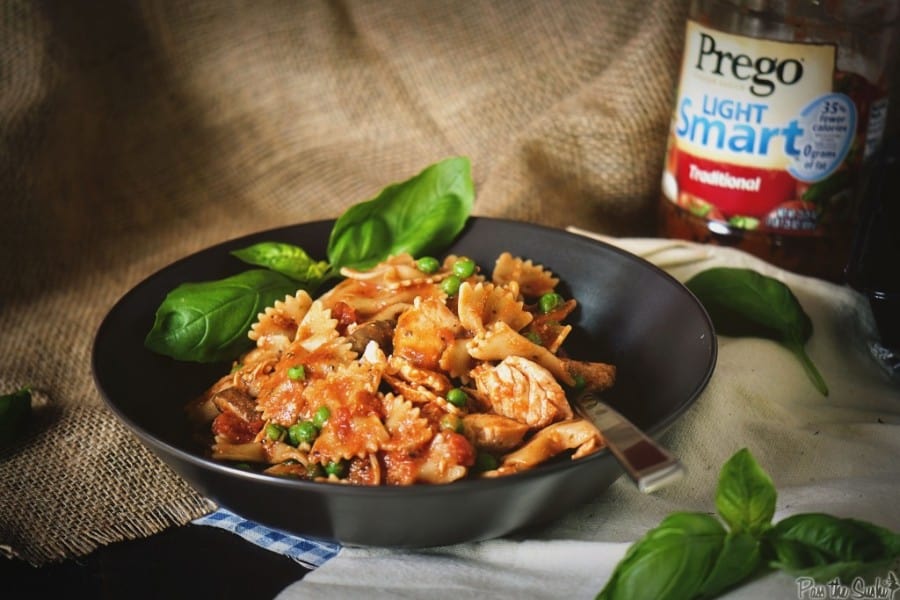 When I get home from work, it's a mad rush to walk the dogs, do the laundry, prep meals for the next day and feed my family, all before collapsing to relax for a bit. I have a hard-working bunch that comes home starving and ready to devour anything in front of them, and no one wants to have to wait.
Easy seared salmon pasta in cream sauce
Dinner needs to be on the table quick, without any stress and little prep work so that everyone sits down happy before the hangry-fairy strikes. Can you actually get Salmon in Cream Sauce done in that time?
Yes. Indeed, yes, you can.
That's when I get a little creative in my kitchen and look at what I have on hand. Reaching for a jar of premade sauce, I feel the craving for something hearty start to stir. I route through my pantry and grab some delicious, healthy options like whole wheat pasta and find some frozen peas, fresh mushrooms, and onion to add some texture and flavor.
All of this will go great with that fresh salmon I had picked up from the market and was looking to put to use.
Only two pans needed
In under 30 minutes, with only two pans to wash, I have a filling, healthy meal on the table filled with fresh healthy ingredients. It's the perfect mix of weeknight convenience with restaurant-quality flavor that is sure to please. And now, I can sit down and relax.
So what kind of salmon works best for pasta?
First, while not all salmon are created equal, that doesn't mean their differences make one better or worse than any other. In terms of this pasta dish, the cream sauce adds plenty of richness, so you don't need the fattier salmon at all to make it work.
There are a lot of varieties of salmon but here is what you find most often:
King or Chinook – the biggest and fattiest. When you see that really expensive Copper River salmon, it is typically Chinook. Not always though because there are coho and sockeye from there too. (Copper River is in Alaska, but ask any Alaskan and most will tell you that is good, but not the best salmon in the state).
Atlantic Salmon – These are all farm raised. Which has pluses and minuses, but on the plus side it is less expensive and sold everywhere. Plus it is sustainably sourced.
Coho are also known as "silver" salmon. They taste a bit less fishy, but they still have flavor and work great in pasta dishes like this.
Pink salmon are also called "Humpies" or humpback salmon and these are ok fresh but often this is the type of salmon found in cans.
Chum salmon are typically used for smoking. They will work in pasta dishes quite nicely too.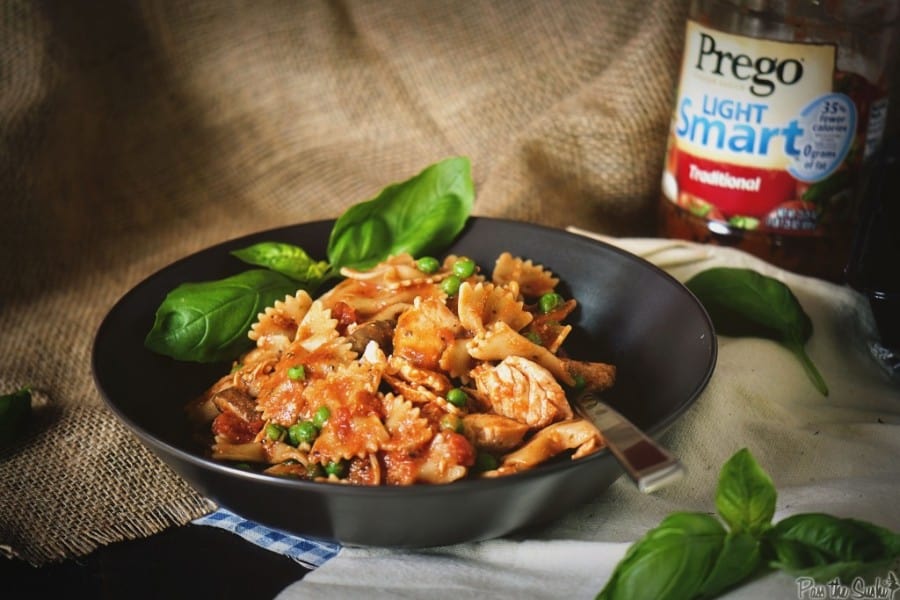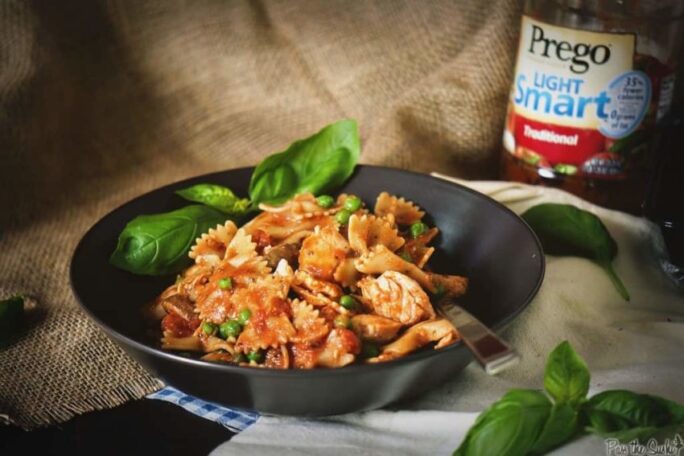 Storing leftovers
Ok, let's cut to the chase. There is a reason salmon has a well deserved reputation for the fish you don't want to forget in the fridge. Leftover salmon that goes bad will have you thinking about moving out of your home until the bio rescue team conducts a thorough cleansing.
But you can get away with a day or two. No more. Forget storing it in the freezer though, it ruins the cream sauce and just isn't appetizing.
The perfect seafood
After a week chasing Salmon in Alaska with local harvesters, I may be convinced that it is the perfect seafood. These recipes will keep you coming back for more!
If you've tried my Pan Seared Salmon with Cream Sauce over Pasta, or any other recipe on GirlCarnivore.com please don't forget to rate the recipe and let me know where you found it in the comments below. I get inspired by your feedback and comments! You can also FOLLOW along on Instagram @girlcarnivore as well as on Twitter and Facebook.
Quick Weeknight Pan Seared Salmon in a Cream Sauce with Pasta
This is a 30 minute salmon pasta meal that uses ingredients you have on hand to dress up pasta night while still keeping things simple.
Ingredients
6

oz

Farfalle pasta

1

tbs

Olive Oil

8

oz

Salmon

Salt and Pepper

½

Onion

minced

4

oz

Baby Bella Mushrooms

washed and sliced

½

teas Dried Oregano

½

teas Dried Basil

1

jar

23 oz Prego Red Sauce of Choice

2

oz

Cream Cheese

8

oz

Frozen Peas

heated

Fresh Basil for Garnish
Instructions
Cook the pasta in a pot of boiling water to just al dente. Drain and set aside.

Heat the oil in a large skillet over medium heat.

Pat the salmon dry and season with salt and pepper. Lay in the skillet and cook for 7 – 10 minutes, flipping once half-way through, depending on thickness (fish will flake easily with a fork when done).

Remove from pan and set aside.

In the same skillet, stir in the mushrooms and onions.

Cook for 3 to 5 minutes to soften. Stir in the Prego sauce and the cream cheese to heat through. Mix so that the cream cheese melts.

Meanwhile, break the salmon up into bite-sized pieces and discard skin.

Stir the cooked pasta, peas and salmon into the sauce. Toss to combine.

Serve with fresh basil on top as a garnish and enjoy.
Notes
If you don't have salmon, or don't care for it, this dish is great with cooked chicken or shrimp as well. 
Nutrition
Nutrition Facts
Quick Weeknight Pan Seared Salmon in a Cream Sauce with Pasta
Amount Per Serving (1 g)
Calories 252
Calories from Fat 81
% Daily Value*
Fat 9g14%
Cholesterol 31mg10%
Sodium 53mg2%
Potassium 461mg13%
Carbohydrates 29g10%
Protein 15g30%
Vitamin A 431IU9%
Vitamin C 16mg19%
Calcium 42mg4%
Iron 2mg11%
* Percent Daily Values are based on a 2000 calorie diet. Nutrition information provided is an estimate. For specific health concerns, please put the recipe into your Dr recommended nutrition calculator.