Know your pork. Highlights of America's pork production and what it takes to feed a nation.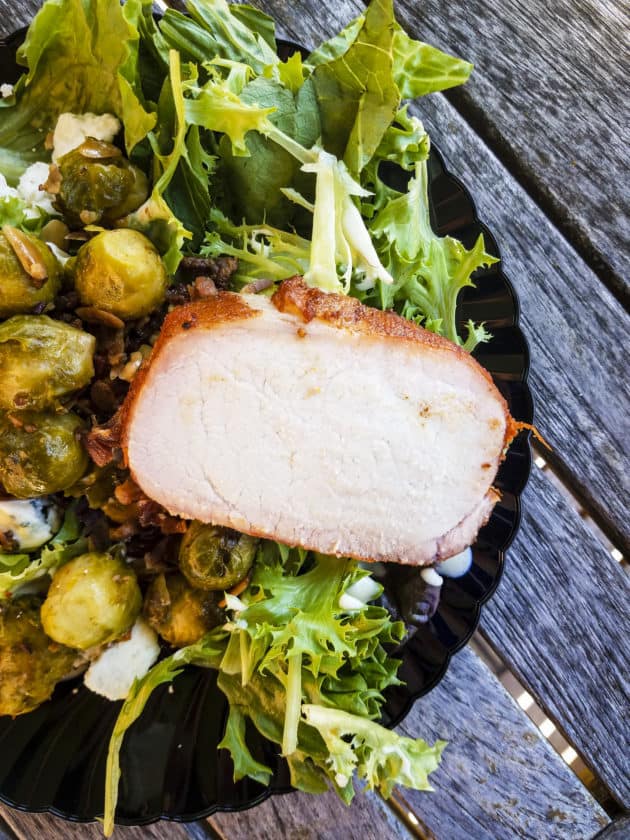 The National Pork Board sponsored this trip, however, and as always, my thoughts, opinions, and curiosities for American food production are my own. Can't buy this, but a girl does have to pay the bills. Interested in sharing your farming story with me? Reach out!
Over the past few years, I have grown a bit passionate about educating myself regarding American foodways. Extensive travel around the globe, one handshake or another and many hours of self-motivated touring has inspired a curiosity towards where our food comes from, American food waste, and our culture surrounding food. As my passion has grown, I have been traveling the states, working with farmers to document and learn. This is a new chapter in the GirlCarnivore chronicles, so let's get a little serious for a moment and start learning about our food. (Don't worry, Happy hour chats on Friday Nights is still a thing.) Also CHIME IN! We should be talking about food! So let's ask questions, get answers, and have some fun doing it. Now, onto the learning.
Did you know pork is the most widely consumed animal protein on the planet with the US ranking as the 3rd largest producer globally? America has more than 60,000 pork producers nationwide who are annually marketing more than 115 million hogs. On average, these animals provided a total gross income of more than $20 billion, as they are raised, harvested, and marketed in the US and exported to other countries. It's easy to forget just how wide our agriculture is when we're debating thin or thick cut chops for supper.
The bulk of American pork farming is found in Iowa, North Carolina, Minnesota, Illinois, Indiana. However, pork farms can be seen across the entire US as they do not require the same land needs that other livestock require. I have been lucky enough to tour a few different operations, always inspired by the uniqueness of each farm and the ability of each farmer to adapt to their lands and operational needs.
Pork farming can be broken down into three stages for Multi-site production. Sow farm – Nursery – Finisher. The farm we visited while in SD, a large Pipestone sow farm is a massive operation, is owned by investing farmers and managed by on-site veterinary teams. The cost of building a safe system that can maintain the output demand would be enormous for an independent entrepreneur. By aligning a few family farms, under one operation, each can work together to invest and produce a healthier end product.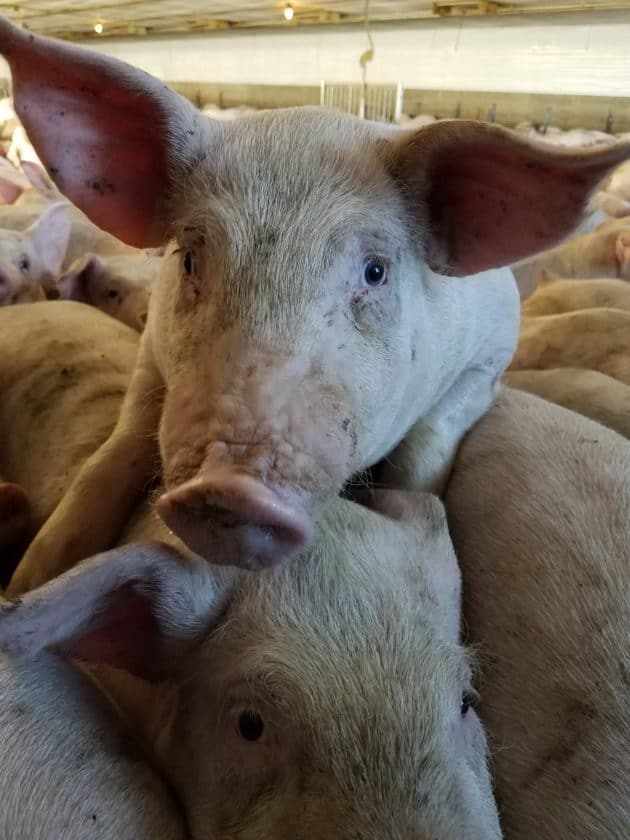 The piglets are born and weaned, before being transported back to the individual farm owners who will house the animals on a wean-to-finish barn before sending them to market. Once ready to be harvested, around six months after birth, and 280 pounds fully grown, the farmer is free to market their pigs to a variety of packing plants.
However, not all farmers are running in mass production, and smaller operations still exist across the United States, where each farmer may own only a few sows and wean the animals directly before going to market. Pork farming, like all Amerian agriculture as a whole, can't be wedged into one size fits all, as operations exist from 1 to 1 million.
After visiting the Pipestone sow farm in South Dakota, my curiosities of pork farming led me back east, and I found myself feeding an adorable show sow marshmallows on a rainy day in New York. I spent hours talking with a proud father and daughter team who work several acres with lambs, feisty goats, turkeys, a healthy fluff ball of a guard dog, and of course, pigs. They show at local events, educate at local markets, and are busting their backs to produce quality hogs for their consumers while spreading good work ethic to the next generation. The tireless work of committees, events, and general awareness generation each of these individuals do to promote healthy active farming is nothing short of amazing, after you realize how many hours a day just running an operation takes.
As farmers are introducing more technology, to give the best possible care to the animals, they continue to revamp their farms. Extream cautions are taken by all farmers to oversee the health of their livestock, and some examples of this were very apparent while on my tours. The mandatory shower in, shower out process before even entering the sow barn in South Dakota was an event in itself, as a busload of bloggers arrived to tour the facility. As our tour began into a long hall of the Pipestone building, the newly joining air is sucked out, and the uncontaminated air is filtered in before moving through a required shower to tour the facility. Each employee and visitor must follow this strict protocol every time they enter and exit the building as containing any possible foreign illness or contamination is handled with extream caution.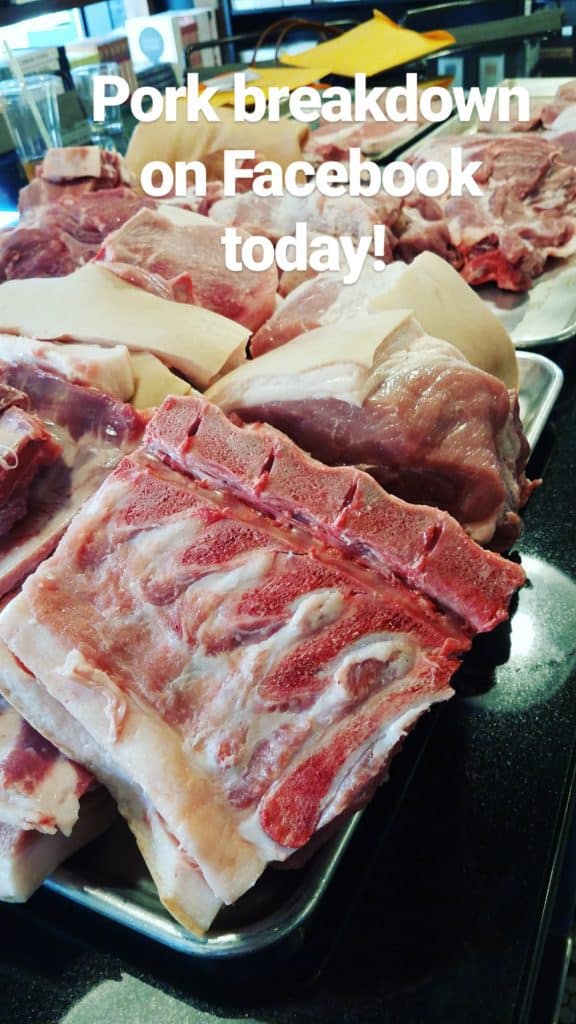 The day was, as all of my moments on farms are, an extensive collection of experiences, from singing in showers with friends to pulling my first piglet to life – just another part of the job… that had me up to my shoulder in…. well yeah. But gave me enormous respect for the vets that walkthrough and handle the needs of these animals from day to day. It's a privilege to be included in these stories, and I am excited to continue to learn more.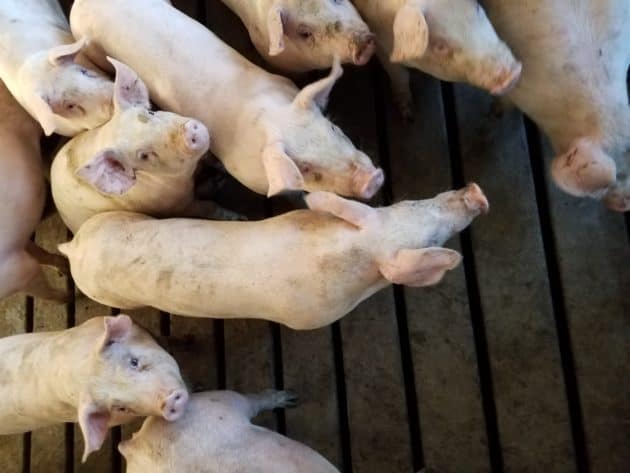 Fun Facts on Pork Production in America: