This post may contain affiliate links. Please read my disclosure policy
Hey guys, this is just a short and sweet update.
I am working on something new this year. It's kind of a big deal and I am really excited about it. I have teamed up with the New York Beef Council to raise money for Feeding America. We're calling it Foodies for Foodbanks! The proceeds go to food banks across the country.

There is always an abundance of food in my house, but I remember a time growing up when that wasn't the case. So, if you can, spread a little holiday cheer this year and consider donating. Or check out your local food banks and see what they are collecting. Something you have on hand may help a family in need have a wonderful holiday season.
This is our first year trying something like this, and it's new, so it's going to take a little work to get things rolling, but I would love support from you – the Girl (and guy) Carnivore's of the world to help me raise awareness and a little extra help this holiday season for Feeding America.
Thank you so much for your support.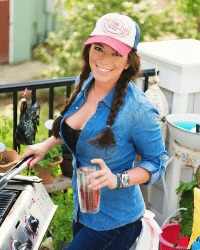 Hey, I'm Kita, the Meat Maven, outdoor junkie, campfire connoisseur, adventure-seeking and world traveled recipe developer and photographer behind GirlCarnivore.com. My mission is to break down savory eats and inspire you to get a little grit under your nails while having fun with your food. READ MORE