Think you have what it takes to throw down the biggest and best burger?
Welcome to Girl Carnivore's Annual Burger Month Challenge.
The biggest annual party dedicated to all things burgers.
The Challenge: Create a #GirlCarnivore worthy burger. The only rule for 2018 the burger had to be epic. All bets are off! With the 'only rule being 'make an over the top burger worthy of the GirlCarnivore seal of approval,' these burgers are guaranteed to keep you excited all month long and well into the grilling months of summer. This is GirlCarnivore's #BurgerMonth. Bring on the flavors.
The Caveat: Can it live up to the GirlCarnivore standard?


I am teaming up with inspiring recipe creators across the country once again to bring you the best-damned patties all May long. We have over 50 participants this year – bloggers – butchers – influencers – and chefs – and they are ALL creating epic new burger recipes for you to savor all month long.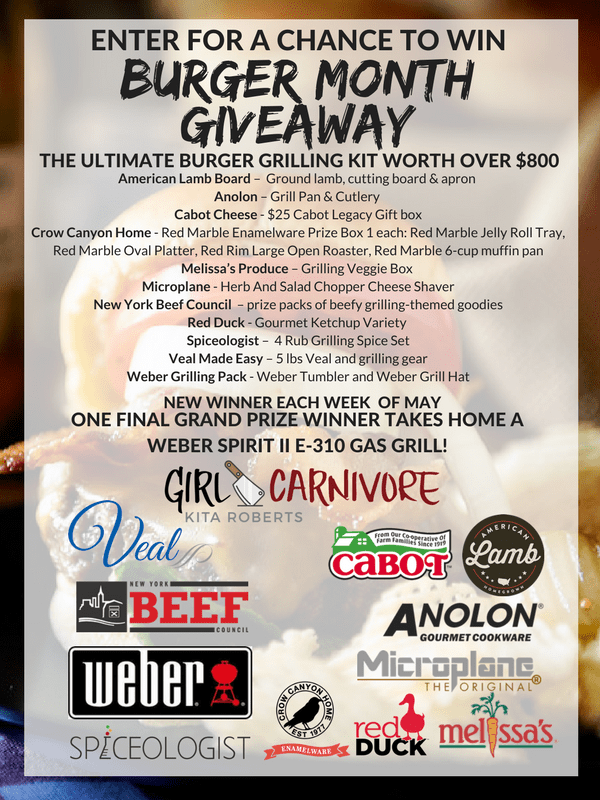 American Lamb Board –  Ground lamb, cutting board, and apron
Anolon – Anolon SureGrip Cutlery Bronze 3 Piece Chef Set & Anolon Advanced Bronze 11″ Deep Square Grill Pan w/ Pour Spouts
Cabot Cheese – $25 Cabot Legacy Gift box – Includes eight bars of Cabot Cheddar, cheese knife, and a wine opener. Award-winning cheese brought to you by the 1,000 farm families who own Cabot Creamery Co-operative.
Crow Canyon Home – Red Marble Enamelware Prize Box
Melissa's Produce – Grilling Veggie Box
Microplane – Herb And Salad Chopper, Microplane Elite Series Extra Coarse Grater, Microplane Spice Mill
New York Beef Council  – Beef, It's What's for Dinner Swag Bag including a tote, knives, oven mitt and apron
Red Duck – Gourmet Ketchup Variety
Spiceologist –  4 Rub Grilling Spice Set
Veal Made Easy – 5 lbs Veal and grilling gear
Weber Grilling Pack – Weber Tumbler and Weber Grill Hat
1 winner will be drawn for every week of burger month!
All winners will be entered to win a Weber Spirit II E-310 gas grill!
Grand prize grill  winner will be announced June 4th
A huge thanks to the #BurgerMonth sponsors,  American Lamb Board, Anolon, Cabot Cheese, Melissa's Produce, Microplane, New York Beef Council, Red Duck, Spiceologist, Veal Made Easy, and Weber Grills.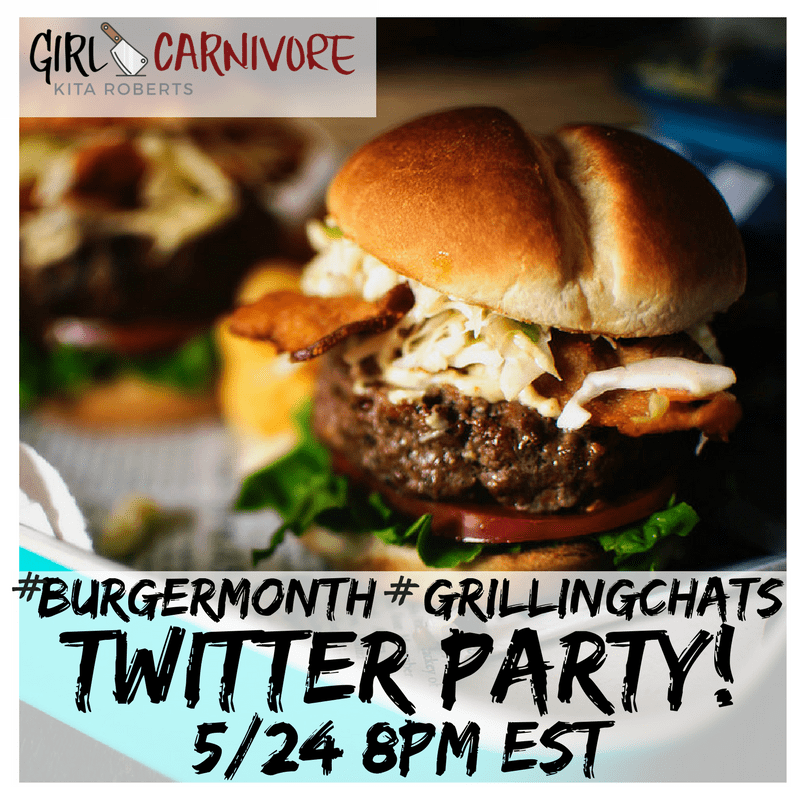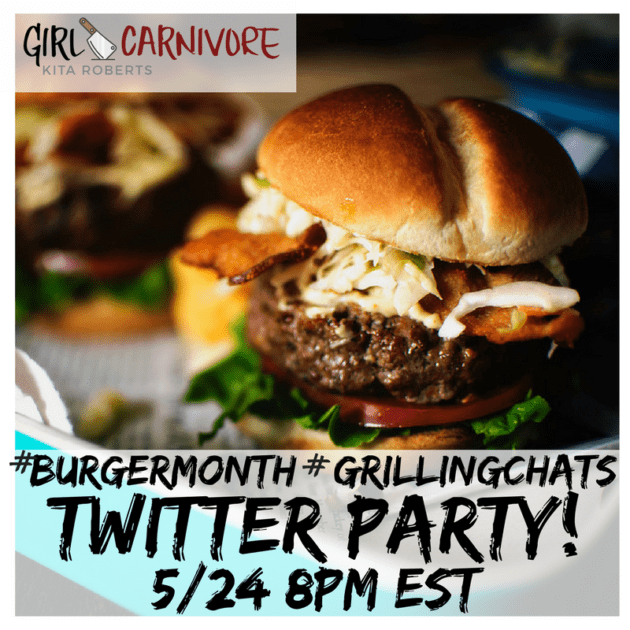 Chime in on the LIVE BURGER MONTH TWEETUP MAY 24th
Question: What is #BurgerMonth TweetUp?
Answer: The #BurgerMonth TweetUp is a chance for the community to gather around and embrace the passion of all things burgers during a live Twitter chat. This year we are teaming up with #GrillingChats for a bigger better tweetup. We go live May 24th at 8PM EST. Chime in as we dish out what makes the perfect burgers, tips for grilling, what special condiments and tips the pros can't live without. Here's your chance to chime in and ask questions, show off your own burger skills, and just sit back and enjoy. 
2017 #BurgerMonth Burgers
2016 #BurgersMonth Burgers
2015 #BurgerMonth Burgers