No one said comfort food had to be boring. I think we get stuck delivering what we think food needs to be. Chicken noodle soup is the cure-all. Health food is always boring and flavorless. Indulgent meals must be slathered in something (gravy, cheese, chocolate, you name it). It is all or nothing. We forget to bend the rules and make things work for us. We get comfortable and have trouble inspiring creativity and thinking outside of our recipe box. This Curry Chicken Butternut Squash Soup is anything but your typical chicken soup. Now go on and get creative with the basics.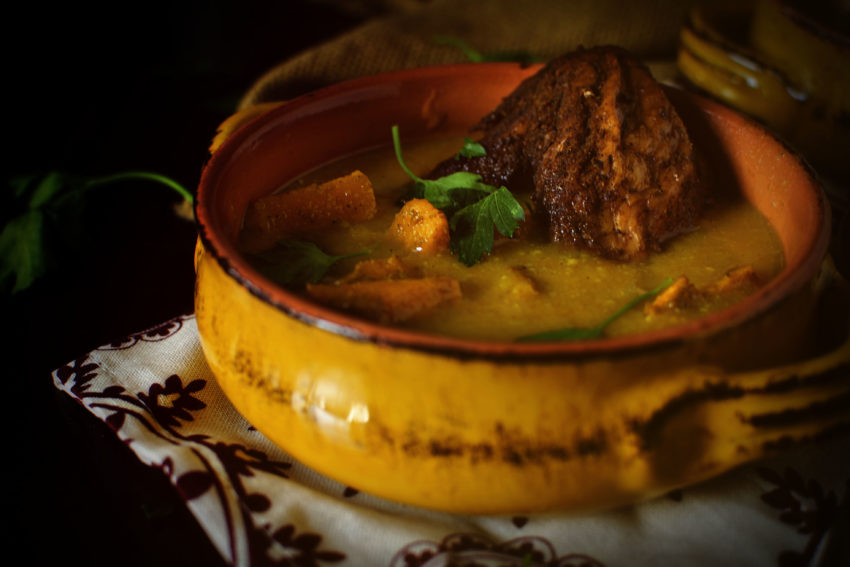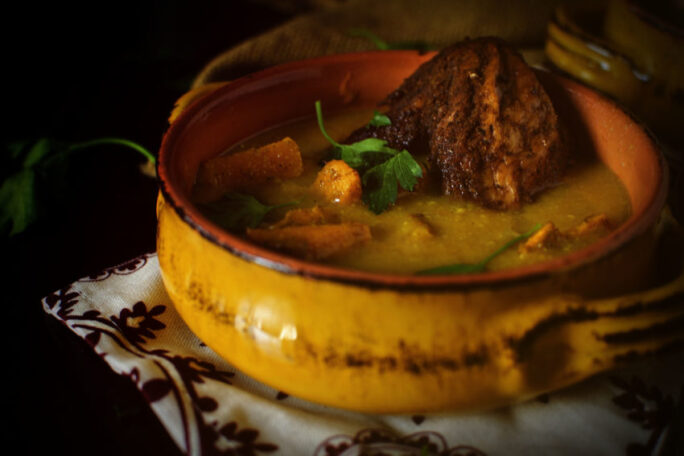 This month I am taking on a new challenge, the Whole 30. I am 100% against trend diets and fads. I don't believe in cutting out any one of the food groups and fear for anyone who does this without educating themselves and their needs first. I am back on my bike, and plan to ride a lot. I need to think about what fuel my body needs besides just wanting to curb some sugar cravings. Lucky for me, I like meat. And meat packs protein. So why, if I hate diets and the idea of cutting out anything (like all grains and dairy), would I do Whole30? Because I need a reset. I added a few unnecessary pounds last year that are driving me crazy. My cravings are off. I want sugar more than ever. And that is not ok. I have been drinking a ton of coffee and the caffeine has been glorious, but I can feel a notable slump in the late afternoon. This is a challenge to myself. An exercise in kitchen – thinking and getting creative in my cooking again. And mainly, once I agree to try something, I am too stubborn to not.
Disclaimer: I don't plan on sharing the recipes I select over the next 30 days on GirlCarnivore. This isn't the right platform for that. If I feel the meal was amazing and doesn't suffer at all from it's paleo/grain free/dairy free twist, then I may add it to the roster. GirlCarnivore isn't a platform for any one type of diet, but if you are curious about Whole30, or have tried it yourself, I would love to hear from you. I am sharing my meals and thoughts throughout the next month over on Instagram.
Now go grab a giant ladle, you're going to want some of this Curry Chicken Butternut Squash Soup! Health food or not.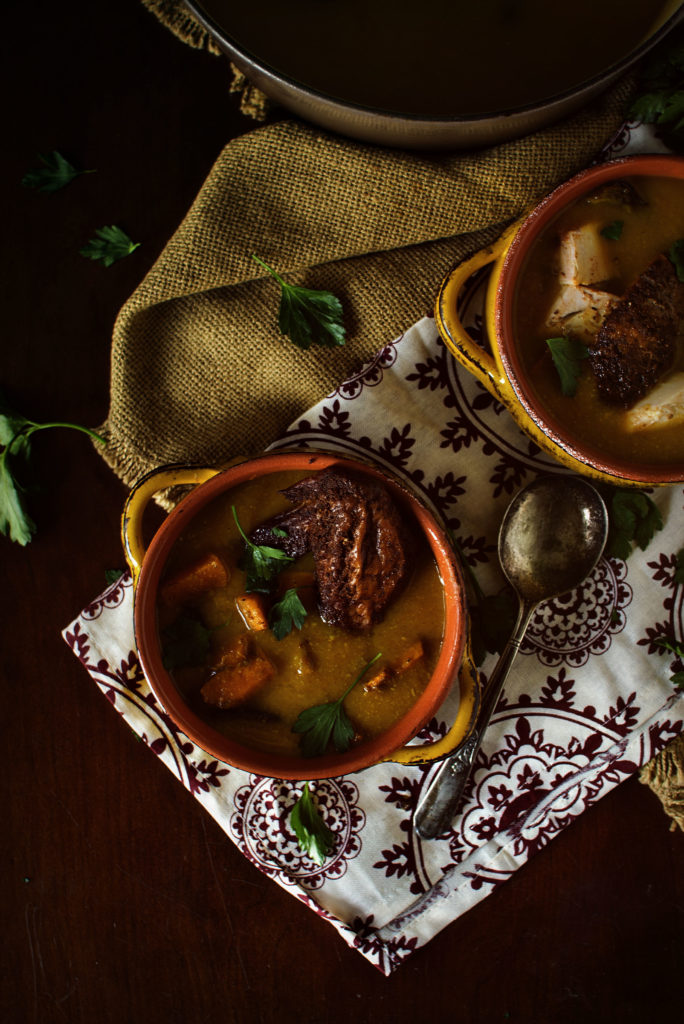 Chicken Soup with Roasted Butternut Squash & Curry
Ingredients
4

cups

butternut squash

peeled, seeded, and cut into ¾-inch pieces

1

red onion

sliced into wedges

1

tbs

curry powder

1

tbs

olive oil

5 ½

cups

reduced-sodium chicken broth

1 15

ounce

can garbanzo beans

chickpeas, rinsed and drained

⅓

cup

dried apricots

snipped

¼

teas freshly grated or ground nutmeg

1

whole smoked chicken

cut up and ready for using
Instructions
Preheat the oven to 425 degrees F. Line a baking sheet with foil. Toss 1 tbs oil on the foil and arrange the cubed squash and onion. Sprinkle with curry powder and toss to cover everything in oil and distribute the spice. Smooth into a single layer. Bake the vegetables for 20 - 25 minutes, stirring once halfway through cook time.

Add the roasted butternut squash mix to a large Dutch oven. Add the chicken broth, beans, and dried apricots. Stir to combine. Bring to a boil before lowering heat to a simmer. Cook for 10 minutes. With an immersion blender, or by ladling into a blender a bit at a time, pulse until the soup is smooth (ish - leave some large pieces for texture). When heated through and slightly thickened ladle into bowls to serve. Top with the cooked chicken pieces. Sprinkle with nutmeg and garnish with parsley or cilantro.
Notes
BHG Special Interest Magazine, Chicken