This is hot, ready, and begging you to pile as much chicken and sauce as you can handle sort of sub. This is a chicken sandwich worth raving about.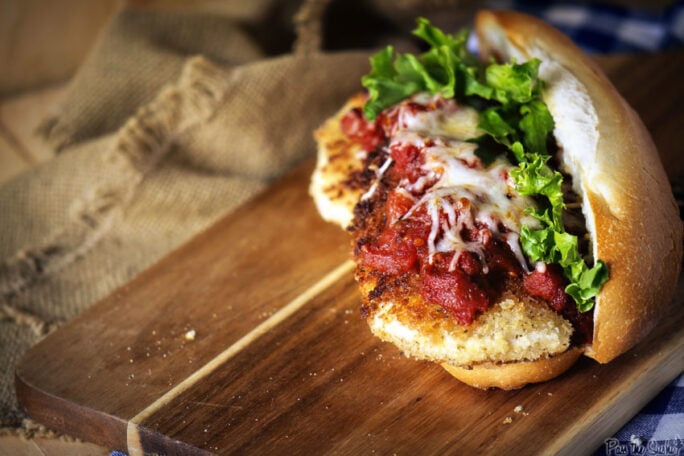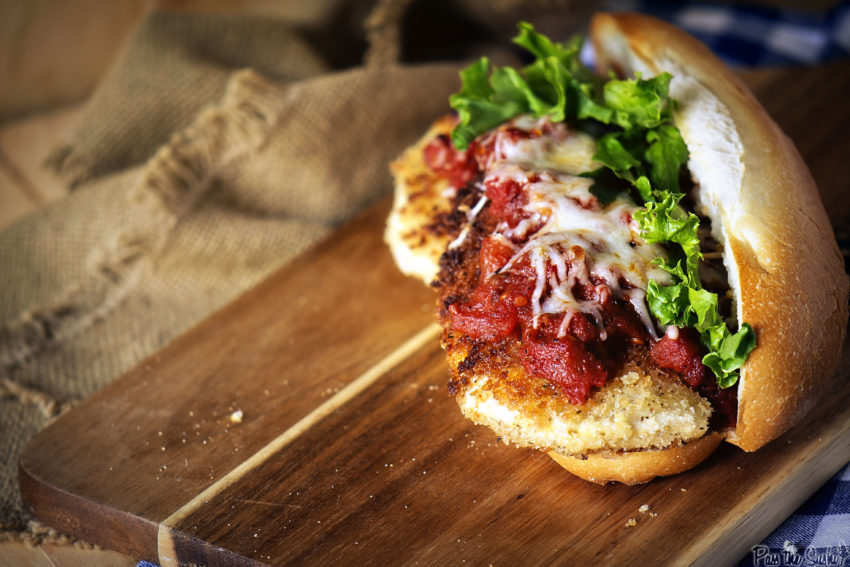 When it comes to a sandwich, I am not satisfied until napkins, lots of napkins, are involved. Big toothpicks holding the whole package together and a volume that would make Dolly Parton's hair blush. Now, that's a sandwich. Boring white bread just can't handle what I bring to the table. It's about making those eyes roll back when you shove that first bite into your mouth. The kind of guilt that is worth every single moment. That moment when you are slightly embarrassed but too satisfied to care. That is what I'm looking for when I slam this Chicken Parmesan sub down in front of you.
This is hot, ready, and begging you to pile as much chicken and sauce as you can handle sort of sub. Yeah, it's may not be a big beefy bad boy. But, this is a chicken sandwich worth raving about. With a rapid prep and weeknight ease, there is no excuse for not whipping this up at home. Forget the soggy mushy buns and questionable rubber chicken of picking up on your way home. Get that pan heated and get to cooking!
Forget delicate 'sammies', this chicken sub is here to play with the big boys.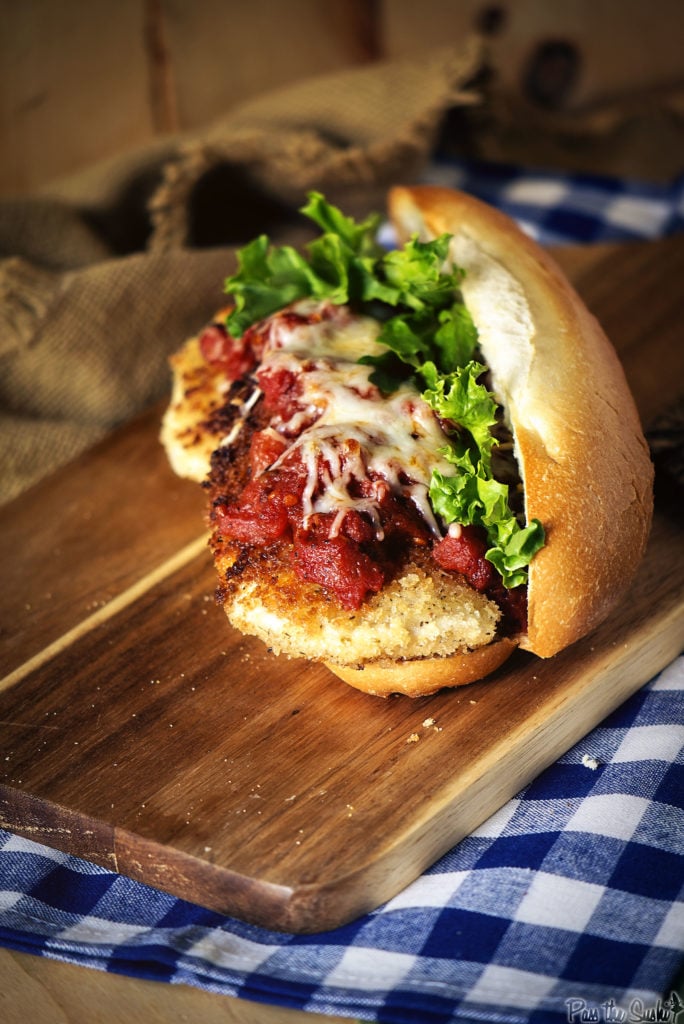 Looking for some more sandwiches that are more than a slice of deli meat and soggy bread? These are what you need in your life!
If you've tried Chicken Parmesan Sub, or any other recipe on GirlCarnivore.com please don't forget to rate the recipe and let me know where you found it in the comments below. I get inspired by your feedback and comments! You can also FOLLOW ME on Instagram @girlcarnivore as well as on  Twitter and Facebook.
Ingredients
½

cup

flour

3

eggs

1

cup

panko-style bread crumbs

salt and pepper

½

teas paprika

1

lbs

chicken cutlets

pounded thin

¼

cup

vegetable oil

2

garlic cloves

minced

1 14.5

oz

can diced tomatoes

1

teas red pepper flakes

4

sub rolls

4

oz

shredded parmesan and mozzarella cheeses

mixed together
Instructions
Heat the oven to 400 degrees F.

Pat the chicken dry and season with salt and pepper. Arrange the flour in a shallow dish and the panko and paprika in another dish. Whisk the eggs in a final dish and have everything set and ready to go.

In a large skillet, heat 3 tbs vegetable oil over medium heat. Dredge the chicken in the flour, then in the eggs, and finally toss each in the panko. Place in the skillet and cook until golden brown, about 3 to 4 minutes a side. Remove the chicken to a paper towel-lined plate.

In the same skillet, heat the remaining oil. Add the garlic and cook for about 30 seconds. Add the red pepper flakes and stir in the canned tomatoes. Allow the tomatoes to cook for about 7 to 10 minutes, while their juices thicken. Smash large chunks of tomato with a potato masher or fork. Season with salt and pepper to taste.

Working on a baking sheet, divide the chicken up over the sub rolls and top with hefty portions of sauce. Sprinkle each with cheese. Place in the oven and toast until cheese is melty and awesome, 3 to 5 minutes.

Serve with napkins.
Notes
Cook's Country Sampler 2015