#BurgerMonth may now be my favorite celebration of the year. Lasting 31 days including 33 burgers and bonus posts from bloggers to get your patties beefed up and inspired like never before. Piled high with creative accoutrements, slathered in gourmet sauces, and stuffed with more juicy delight than your taste buds could even handle! There were healthy burgers, heart attack platters, breakfast creations and late night snacking dreams. It was all that a girl carnivore could have asked for and more. Never let a patty be dull again. Never let a bun sit naked and afraid. Never be burger uninspired. Because we brought you #BurgerMonth. Let your burgers know you care.
So bring it.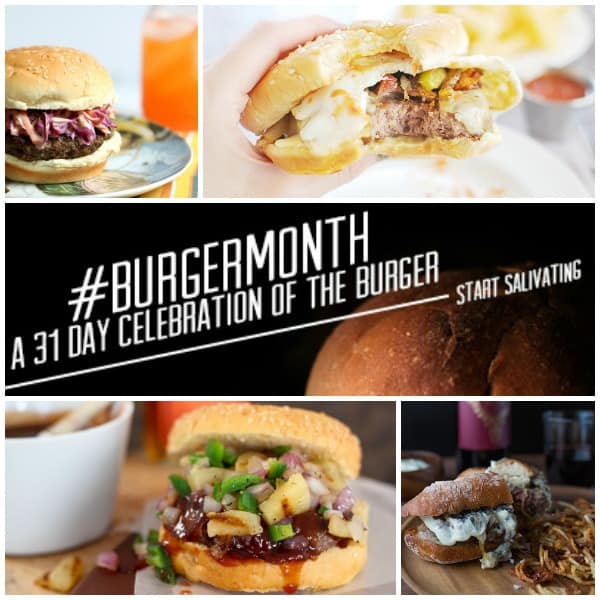 July 27 Spicy Bourbon BBQ Burgers || Bake Your Day
July 28 Colorado Omelet Burger || Fake Ginger
July 29 Dominican Chimi Burgers || Cooking with Books
July 30 French Burger || Chez Us
July 31 Burger Month Finale!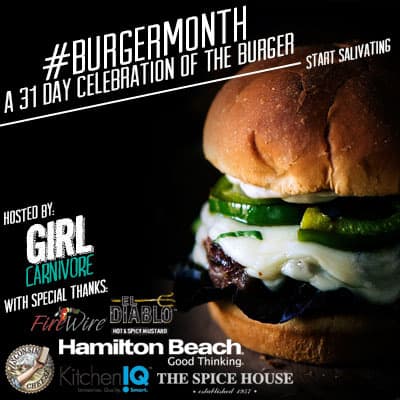 It's an epic #burgermonth Giveaway!
Don't miss a single burger! Pin them! Share them on your facebook page! Replace the boring work email with a little something juicy this afternoon! Or privately sit there swooning over those perfectly filled buns. Whatever floats your boat. But, be sure to not miss this final day of Burger Month because it ends tonight!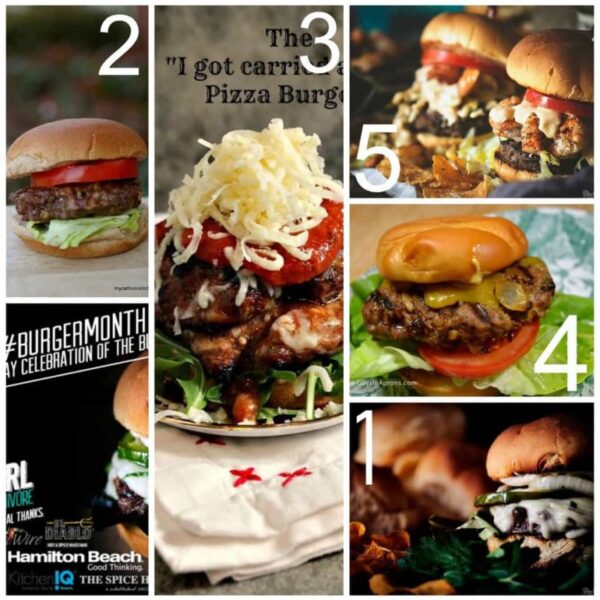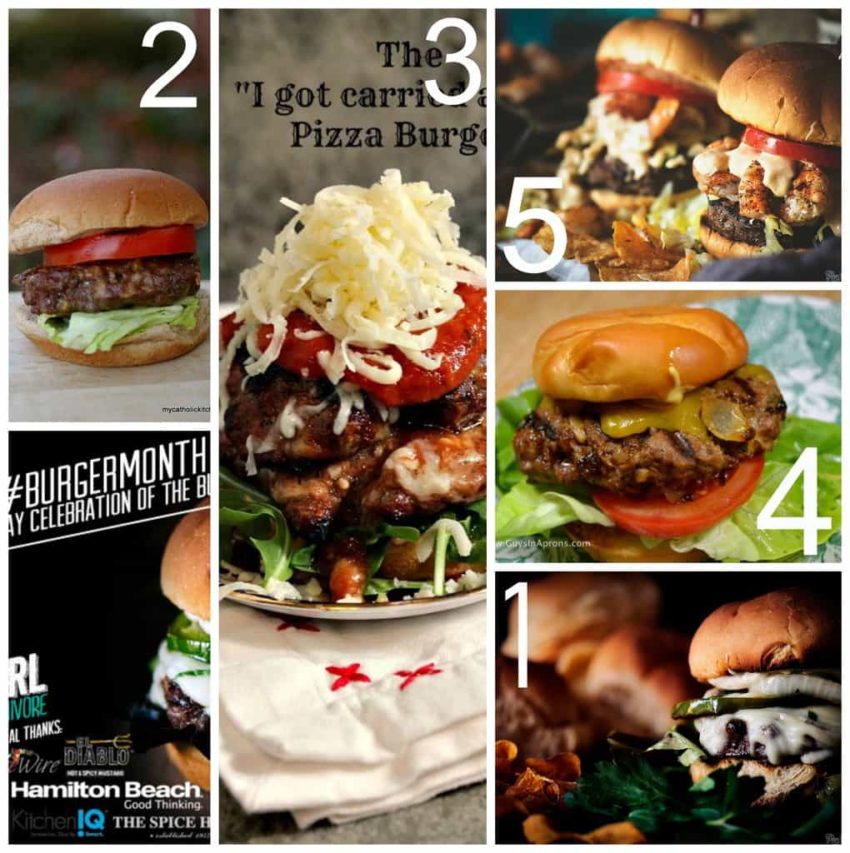 July 1st: Philly Burger || GirlCarnivore
July 2nd: Bacon Blue Cheese Burger || My Catholic Kitchen
July 3rd: Pizza Burger || Kiss My Smoke
July 4th: Inside-Out Upside-Down Grilled Lamb Burger || Guys in Aprons
July 5th: Shrimp Po Boy Burgers || Pass the Sushi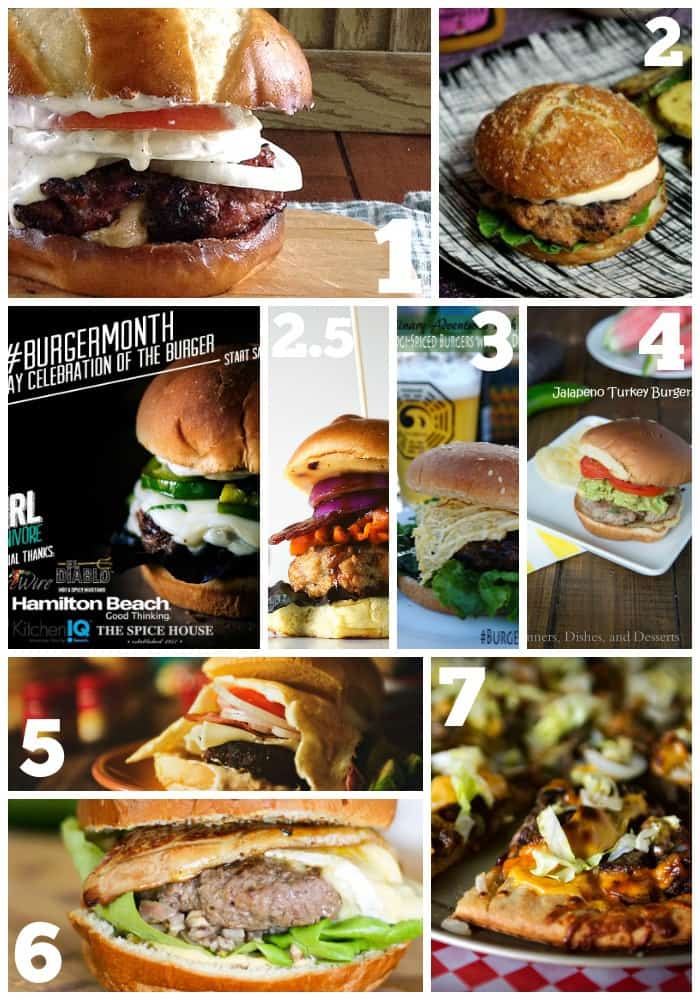 July 6th Triple Garlic Swiss Stuffed Burgers on Pretzel Buns || Taking on Magazines
July 7th Spicy Mustard and Sweet Potato Turkey Burgers || The Spiffy Cookie
July 7th (BONUS!) Name that Turkey Burger || Pass the Sushi
July 8th Bulgogi-Spiced Burgers with El Diablo Mango Mustard Kimchi || Culinary Adventures with Camilla
July 9th Jalapeno Turkey Burgers || Dinners Dishes and Desserts
July 10th X-Tudo Brazilian Everything Burger || GirlCarnivore
July 11th Beef Wellington Burgers || From Away
July 12th Cheeseburger Pizza || GirlCarnivore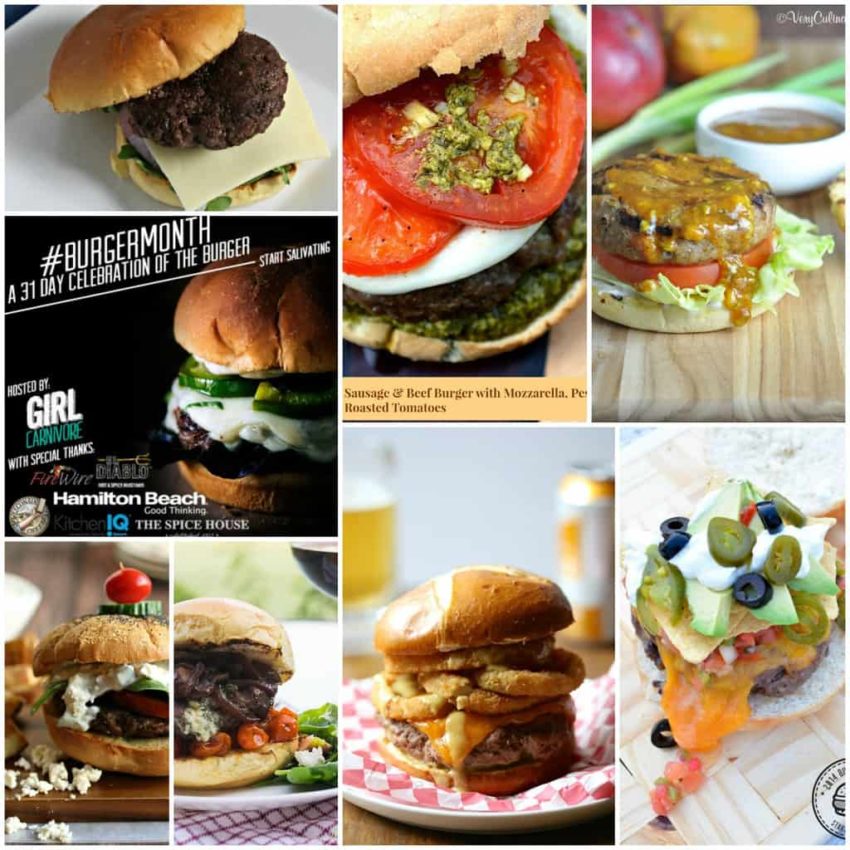 July 13th Beef Short Rib Burgers with Horseradish Cream Sauce | Cooking In Stilettos
July 14th Sausage & Beef Burgers with Mozzarella, Pesto and Roasted Tomatoes | Souffle Bombay
July 15th Jerk Turkey Burgers with Mango | Very Culinary
July 16th Greek Burgers with Tzatziki Sauce | Hungry Couple
July 17th The Classy Burger | Little Ferraro Kitchen
July 18th Juicy Ball Park Burgers with Onion Rings & Mustard Beer Sauce | Climbing Grier Mountain
July 19th Nacho Cheeseburger | I Am Honeybee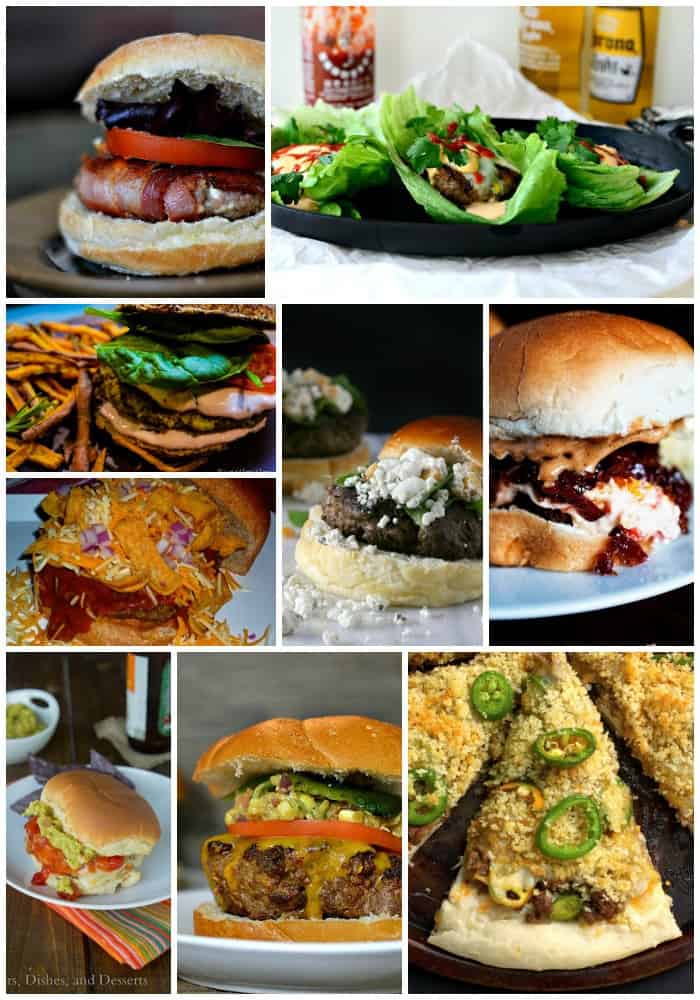 July 20 Bacon Wrapped Blue Cheese Burgers || Bakeaholic Mama
July 21 Spicy Sriracha Steak Burgers || Simply Scratch
July 22 Summer Salmon Vegetable Burger || RavieNomNoms
July 23 Spiced Lamb Burgers || Nutmeg Nanny
July 24 Texas Frito Pie Burger || The Weekend Gourmet
July 25 Peanut Butter Bourbon Bacon Jam Pimento Cheese Potato Chip Sliders || Culinary Concoctions by Peabody
Bonus Burger! Chicken Taco Burgers || Dinners Dishes & Desserts
July 26 Jalapeno Popper Cheeseurger Pizza || Baker by Nature
Bonus Burger! Spicy Southwest Burger || Cafe Terra Blog
A huge thanks to all of the fun bloggers who were just as inspired by a month of burgers as I was and the awesome companies that have donated prizes to #burgermonth , El Diablo Hot & Spicy Mustard,FireWire Grilling Skewers, Hamilton Beach, KitchenIQ, The Spice House, and Wisconsin Cheese
Never miss another meaty post! Follow GirlCarivore on Facebook, Twitter, and Pinterest! If you want to be sure to never miss one meaty bite, subscribe to the email list on the sidebar, for updates right to your inbox.