Are you looking to make and bake the best fiesta you can have? Here is a little inspiration to kick things up; 25 of the best enchiladas recipes to sink into! Ditch the taco bar and go for the warm melted cheese and thick filling of homemade enchiladas.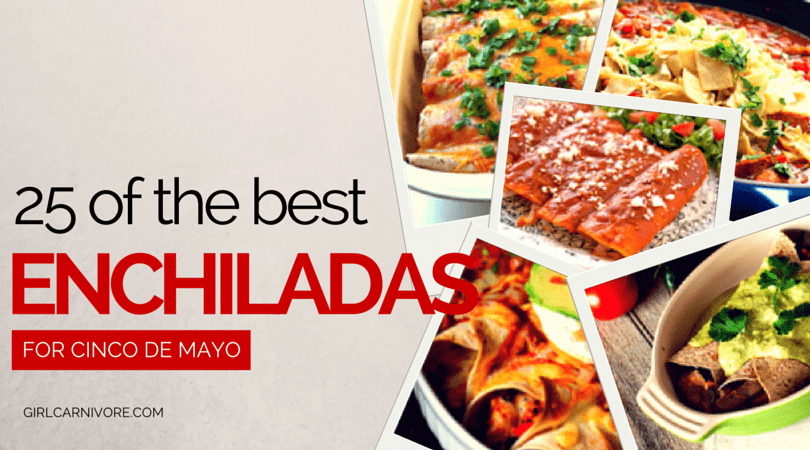 Whether you're looking for green sauce or red, shredded chicken or pork, we're gathering the best enchiladas recipes for you in one easy list. Add a little rice and refried beans to the mix and you have a quick and easy Cinco de Mayo celebration that has everyone coming back for seconds!
25 of the Best Enchilada Recipes
When it comes to the ultimate cheesy meaty fully loaded enchiladas here are the best! From easy chicken enchiladas to fully loaded breakfast enchiladas, make-ahead beef, and slow-cooked shredded pork, these recipes will level up the fiesta!
Now fiesta. Like whoa.
Flour or Corn Tortillas
When it comes to delicious enchiladas, it's hard to pick flour or corn tortillas. Either works, but here are some quick tips to help you pick.
We find that where we love a corn tortilla, flour tortillas tend to hold up better overall. We use Mission tortillas when we're in a rush.

To prevent soggy corn tortillas, yellow corn is our choice with a quick fry before rolling. This helps the tortilla to not break apart when rolling and not become soft while the enchiladas bake.
Make sure to soak the tortillas in a little enchilada sauce before rolling the tortillas.
What to serve with enchiladas
Enchiladas, like tacos, are often a meal in themselves. However, if you are looking to stretch things further, rice and beans are a classic choice.
If you're counting carbs and keeping it keto, try a cold cabbage slaw, cauliflower rice, pickled red onions, or sliced avocado.
The best cocktails to pair with enchiladas
When it comes to enchiladas, and particularly, on Cinco de Mayo, it's hard not to pair dinner with a seriously cold deliciously smooth margarita. We love to make pitchers of Cranberry Lemonade Margaritas. Or this simple 5-ingredient pineapple margarita. If you're feeling spicy, our grilled watermelon margarita with smoked serranos is a treat! (in other words, you can't go wrong with a margarita).
More Cinco de Mayo Recipes