Maybe it was the beer (or the martinis) we downed while awaiting our company and pre-gaming at the bar, but we felt like living on the edge and trying one of the campy themed appetizers from the greasy menu pf the chain restaurant. It wasn't our normal kind of watering hole, and we weren't thrilled with the company, so who could blame us (or the liquor) for going ahead and starting without them.
And maybe it was the martini's, but the pre-packed molten hot microwaved appetizers placed before us really weren't that bad. So I decided I could recreate them at home. Better.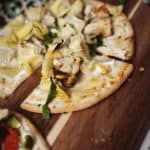 Restaurant Style Flatbread Appetizers
Ingredients
1

tbs

olive oil

1/2

lbs

chicken

cut into bite sized pieces

salt and pepper

1/4

cup

red onion

diced

1/4

cup

red pepper

diced

1/4

cup

green pepper

diced

1/4

cup

black beans

1/2

cup

artichoke

cut into quarters

1/2

cup

chèvre

1

– 2 tbs milk

4

flatbreads

fresh parsley
Instructions
Preheat oven to 400 degrees F. Line a baking sheet with parchment paper or aluminium foil.

Warm olive oil in a skillet over medium heat.

Season the chicken with salt and pepper and cook through. Remove from skillet, cover, and set aside.

Combine the chèvre with the milk and mix until smooth. Spread an even layer over each of the flatbreads. Top the flat breads with your choice of toppings. I did one with chicken and artichokes and the other with chicken. peppers, onions and black beans.

Place the flatbreads on the prepared baking sheet and bake until cheese has melted and flatbreads are crispy, about 10-12 minutes.

Sprinkle with fresh parsley.