Pork chops are one of those cuts that I consider old school. I hear pork chop and think it's time to bust out a box of Shake and Bake. More often than not, pork chops are over cooked, dry, boring, and bland as hell. It wasn't until recently that I started to come back around to them. One, pork chops are cheap. Crazy cheap usually (and if not, a hunk of pork to be cuz up to chops is usually super cheap). Two, these aren't the days over cooked, well done, chewy and bland pork cuts anymore (thank god). We have come a long way and know pork doesn't have to be boiled or charred to death to be safe to eat. 
Grab some cheap bone-in thick cut chops and get to grilling, cuz this pork packs all the flavor you have always wanted and can be done on your traditional kettle grill without any fancy cooking needed.   
Unless you count building a charcoal fire fancy.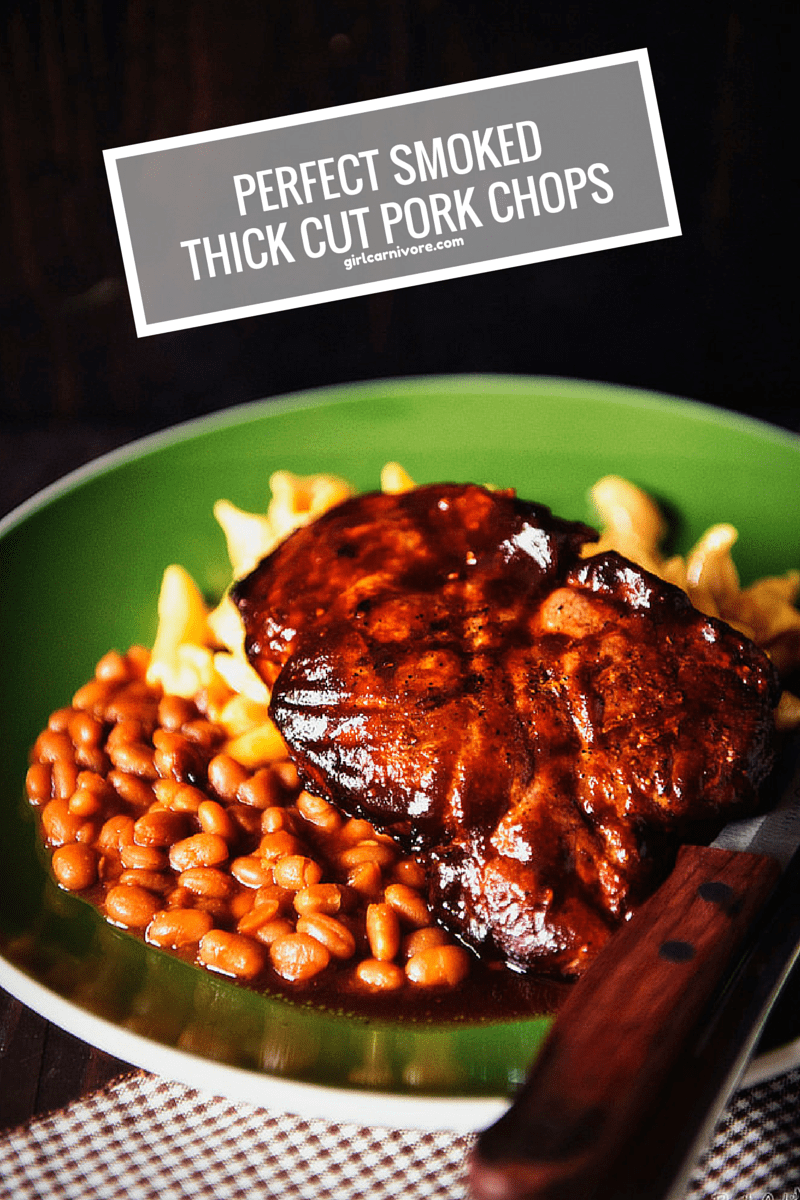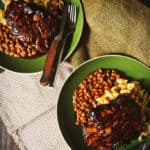 Perfect Smoked Thick Cut Pork Chops
Ingredients
4

bone-in thick cut

1 1/2" pork chops

Kosher salt and pepper

Sweet tangy barbecue sauce of choice
Instructions
Prep and soak your wood chips for 30 minutes.

Get your charcoal started in your chimney starter. Arrange a disposable aluminium pan in the center area of the grate for the coals. When the coals have a nice layer of ash on them, arrange them on either side of the pan. Sprinkle the soaked woodchips over the coals. Arrange the top (cooking) grate and close the grill. Allow things to get good and smokey, give or take 5 minutes.

Pat the chops dry and season with salt and pepper. Using 2 long metal kebob skewers, skewer the chops through the top hearty portions, about an inch apart. Slide each chop on and space out evenly on skewers. Using a sharp knife, cut two small slits through the fat on the back of each chop.

Clean and oil the cooking grate. Place the chops, bone side down, standing upright on the grill (your kebob skewelers should be parralell with the grate). Cover and cook until the chops temp at 120 degrees F, about 30 minutes.

Carefully, remove the chops from the kebob skewers and brush with barbecue sauce. Arrance the chops, sauce side down, over the direct heat of the coals (around the edges) and grill 2 to 4 minutes. Brush with more sauce and flip to sear the other side another 2 to 4 minutes. Chops are done when they temp 140 degrees.

Remove from the grill and let rest 5 minutes before dishing out with additional sauce if desired.
Recipe Notes
Cook's Illustrated Summer Grilling 2011