How do you like your sandwiches? Are you prim and proper politely chewing around the edges in small bites so that nothing could possible slide out? Are you one of those people who wouldn't bee seen in public picking up a sandwich with your hands and uses a knife and fork to trim away small nibbles? Or are you like me, and believe that the messier the sandwich, the better. Oozing with sauce, toppings falling everywhere, bread demolished. Yeah, that's all just leftovers to be spooned up with a chip in a minute. Extra toppings for the fries. I want my sandwiches big and messy.
In this case, if it's not messy, you didn't do it right.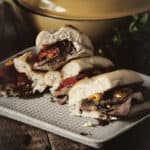 Chicago Italian Beef Sandwich
You're going to want to take your time with this recipe. Prep the meat the night before, cook in the morning, and give proper time to cool for a good slice before inhaling the finished product.
Ingredients
3

tbs

Italian Seasoning

2

tbs

fine sea salt

2

tbs

freshly ground black pepper

1

teas cayenne

1

teas paprika

1

teas red chili flakes

4

lbs

beef top round

with fat cap

2

tbs

bacon fat

3

yellow onions

chopped

1

head garlic

each clove peeled and smashed

1/2

cup

red wine

3

tbs

Worcestershire sauce

2

cups

beef stock

2

bay leaves

6

hoagie rolls

split and toasted

1

cup

chopped drained giardiniera

1

cup

jarred red bell peppers

sliced 1/4″ strips
Instructions
Mix the spices, Italian seasoning through red chili flakes in a bowl. Coat the beef round with the spice mix evenly. Wrap tightly in plastic wrap and refrigerate for at least 3 hours to overnight.

When ready to cook, preheat the oven to 275.

In a braiser, heat the bacon fat over medium high heat and brown beef on all sides, about 15 minutes total. Add the onions and cook for another 5 minutes, until tender. Add the garlic and cook one minute longer. Finally, add the wine, Worcestershire, beef stock, and bay leaves. Deglaze the pan and transfer to oven to finish cooking.

Cook for 1 hour 30 minutes, uncovered.

Remove meat from cooking liquids and let cool completely. (After a 20 minute cool, I wrap tightly in aluminum foil and cool in fridge for easy slicing).

When the meat is cool, slice into very thin pieces. Reheat the broth and add the beef.

Assemble the sandwich by layering meat, with extra broth, giardiniera and red pepper strips over the toasted rolls. If it's not messy, you didn't do it right.