Anyone else out there pining for the great thaw so that we can get back to our porches and a little slow and low over the smoker? Here's where die hard grill fanatics are rolling their eyes and proclaiming their supremacy. That's fine. I am all about the grill all winter long too. It's just been damned cold. And last I checked, I had the technology to cook indoors, so I might as well make use of it before the icicles thaw from my smoker and the great out doors is calling my name.
Here's one for the weeknights.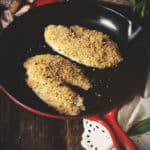 Baked Chipotle Tilapia
Ingredients
2 to 4

tilapia fillets

healthy cuts at least 1/2" thick at the center (if you get thinner, reduce the cook time as needed)

1

tbs

chipotle mayo

3/4 - 1

cup

chipotle panko breadcrumbs

sub regular if needed
Instructions
Preheat the oven to 375. Spray an oven safe skillet or baking dish with cooking spray.

Rinse the tilapia fillets and pat them dry.

Arrange fillets in the skillet and spread a thin layer of chipotle mayo over each. Press the panko over each making sure it stays in a nice layer.

Place in oven and cook for 15-20 minutes, checking doneness with a fork.